Organic Lentils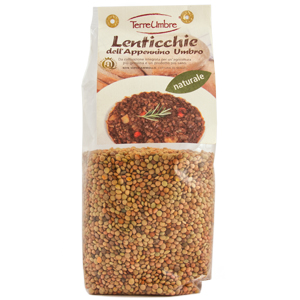 The story of this nutrient lentils is a long story. It has been cultivated many thousand years ago on the mountain which is situated between Umbria and Marche, at the altitude of about 1500. The average quantity of production is very limited. ¬
The lentil has remarkable nutritional qualities: all its proteins, vitamins, fiber and minerals to make it perfect for those who need a diet rich in iron, potassium, and phosphorus, low in fat and very nutritious. Another important feature of the lentil is a thin skin and tender that allows firing directly without soaking, greatly reducing preparation time.
Thanks to the rigid climatic condition, lentils is the only legume which is not attacked by weevil insect whose larvae fed on legumes, so there's no need to treat them with preservative for the conservation.
This is what makes our product unique.

Organic Spelt
The species cultivated spelt in Umbri is called TriticumDurum Dicoum. Thanks to its resistance, the plant does not require any treatment with pesticides or herbicides. Balanced in all its components (unsaturated fatty acids, vitamins and trace elements). Advisable to an ideal healthy diet.
No need to soak. Cooking time: 30 minutes
Organic Chickpeas
Chickpeas are legumes that grow up everywhere in the world, and also all over in Italy, from north to south, but not in large quantities. Rich in carbohydrates, protein, vitamins A and C, minerals, phosphorus, potassium, and linoleic acid, it helps eliminating cholesterol and enriching your daily meals.
Soak for 8 hours. Cooking 30 minutes.
Organic beans
The beans from the Umbria's lands are all natural, an excellent substitute for your meal, as they are a source of potassium, magnesium, folic acid, zinc and vitamin B6.
Soak for 8 hours. Cooking time: 30 min.
Mixed legume soup
Terre Umbre offers this delicious package of mixed legumes. Excellent as an alternative to meat, especially during the winter time.